Crest 3D White Luxe Whitestrips Supreme FlexFit - Teeth Whitening Kit 14 ea
Crest 3D White Luxe Whitestrips Supreme FlexFit - Teeth Whitening Kit 14 ea
Crest 3D White Luxe Whitestrips Supreme FlexFit - Teeth Whitening Kit 14 ea Free Shipping Worldwide
One Box: $89
Two Boxes: $170

Our Whitest White for a Multi-Dimensional Smile
Helps Whiten Teeth as well as a $500 Professional Teeth Whitening Treatment*

Exclusive FlexFit Technology Design Stretches & Molds to Custom Fit Your Unique Smile

The No Slip Grip Stays Put so You Can Talk & Drink Water While Whitening Teeth

The Strip Molds to the Shape of Your Teeth & Comes off Cleanly

Uses the Same Enamel-Safe Teeth Whitening Ingredients Dentists Use

A Comfortable, No-Hassle at Home Teeth Whitening Experience
Unleash a brilliantly dimensional smile.  You love being in the know, discovering the latest and greatest beauty treatments for your skin and hair before anyone else does.  But what about your smile?  Turn it up to mega-watt with your newest beauty "must have," Crest® 3D White Luxe Whitestrips® Supreme FlexFit.  Experience our whitest white, as well as $500 professional treatment*, but one that you use to whiten teeth at home.
Includes:
28 - Strips


14

Teeth Whitening Strip Treatments




Each with 1 Upper & 1 Lower Strip
Made in USA
*vs. laser
Warnings
---
Important usage information:  Keep out of reach of young children.  Product is not intended for use in children under the age of 18.  Do not swallow plastic strip.
Crest 3D White Whitestrips is not a substitute for regular dental care.  Visit your dentist regularly.
Avoid contact of gel with eyes, cloth, leather, or fabric.  Gel that comes into contact with the skin can cause temporary skin irritation and / or whitening.
Tooth Sensitivity and Gum Discomfort:  With all whitening products you may experience tooth sensitivity and / or gum discomfort.  With products that provide a high level of whitening, such as Crest 3D White Whitestrips Luxe Supreme FlexFit, there is a greater chance that you may experience tooth sensitivity and / or gum discomfort.  These effects are generally mild.  These effects are temporary and not harmful.
If you are in need of dental work, have dental work, or have staining from medication, ask your dentist if whitening is appropriate.  Crest 3D White Whitestrips Luxe Supreme FlexFit are designed to hold well to teeth.  Do not use on loose teeth, restorations, or braces.  Crest 3D White Whitestrips will only whiten natural teeth.  The strips will not whiten caps, crowns, veneers, fillings or dentures.
See insert for more information.
How to Apply Crest Whitestrips: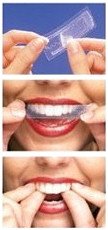 Step 1 - Peel 
For best results, do not brush teeth immediately before applying strips. Open foil pouch and remove slip. Peel the strip back from its backing.
Step 2 - Apply
Apply gel side of strip to teeth and align strips with gum line, pressing gently for good contact. Fold the rest of strip behind teeth to keep in place.
Step 3 - Reveal
Wear the strips for the recommended time, remove and discard. If you notice gel on your teeth, brush, rinse, or wipe it away.