Crest 3D White Whitestrips 5-Minute Touch-Ups with Stain Shield
Crest 3D White Whitestrips 5-Minute Touch-Ups with Stain Shield
Crest 3D White Whitestrips 5-Minute Touch-Ups with Stain Shield Free Shipping Worldwide
Save $10: Strips and Instructions Only. No BOX. $49
One Box: $59
Two Boxes: $100
Remove years of stains with 5 Minute Touch-ups. Enamel safe, you can brighten daily to protect your white teeth from everyday offenders like coffee, tea, wine and cigarette smoke. 5 Minute Touch-ups keep your teeth whiter for longer to ensure your smile stays beautiful.
For daily maintenance and touch-ups in-between whitening treatments.
Protects from buildup of future stains.
Apply once a day for 5 minutes.
Enamel Safe: All Crest 3D White Whitestrips use the same enamel safe whitening ingredient as the dentist.
How to Apply Crest Whitestrips: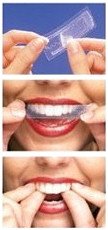 Step 1 - Peel 
For best results, do not brush teeth immediately before applying strips. Open foil pouch and remove slip. Peel the strip back from its backing.
Step 2 - Apply
Apply gel side of strip to teeth and align strips with gum line, pressing gently for good contact. Fold the rest of strip behind teeth to keep in place.
Step 3 - Reveal
Wear the strips for the recommended time, remove and discard. If you notice gel on your teeth, brush, rinse, or wipe it away.